With the ebbs and flows of life, affirmations are important in our daily living to scale through some circumstances well with a positive outlook. In this article, we let you know the 25 best affirmation cards you can start using to manifest your life positively.
Our minds are powerful but also tender, such that if they're not nurtured positively and regularly, they can negatively shape our life.
What is an Affirmation Card?
An affirmation card is a personal card with a short first-person declaration written on it to foster positivity and relaxation in the reader and help manifest their goals.
Affirmation cards are simple but powerful tools that, through the constant declaration of the affirmations in them, help you through getting effective results in your affirmation journey.
Do Affirmation Cards Work?
Just as affirmations have been proven scientifically and practically proven to work, so also do affirmation cards.
Affirmation cards are mediums through which you can always remind yourself to stay positive in every situation.
Practicing verbal affirmations is worthwhile, but including affirmation cards makes it more impactful.
In the face of some situations, your oral affirmation might not be able to help you as much as your affirmation card will.
For example, let's take it that you suddenly, or in reaction to a bad event, have a mood swing, so you are not in a good mood.
As a result, the negative thoughts in your head might use this opportunity to spur up.
Garnering the momentum to positively affirm yourself orally in this course is next to impossible.
However, you can easily grab your card to reinvent your positive thoughts and mood.
Are Affirmation Cards Worth it?
Affirmations cards are very much worth it if you are serious about your affirmations goals.
Your affirmations' results become stronger when you have a tangible card you can take anywhere with you, to have it tell or remind you of your affirmations.
It's like having a supportive friend at your fingertips.
Asides, there are so many ways you can make use of affirmation cards that will bring more effective results to your subconscious mind.
These ways include;
Taping your affirmation cards to your mirror to declare them to yourself before it every morning.
Daily picking a card out with you to always remind you of your affirmation for the day.
Picking an event-related affirmation card with you to help you through the course of the event. Examples are overcoming fear of job interviews, exams, and more.
Using the affirmations as a mantra while meditating.
Post the affirmation cards in your home, car, and workplace to casually remind you of your affirmations as you come across them.
How Do I Choose an Affirmation?
To choose an affirmation for yourself, there are some necessary factors you need to consider.
You want to be sure you are affirming the right thing to yourself—something that resonates with you.
So in order to do these? The factors you need to consider include;
Your current phase of life
What is your current phase of life?
Are you a college student or a  graduating college student looking forward to getting a job soon?
Or are you a wife, husband, mom, dad, or an impending one of them?
What will you need to help you through your current phase of life?
And what are the right affirmations that will set you up for this?
Your current struggles
Take consideration of all your struggles at the time of choosing your affirmations.
Does your current struggle include fear, sickness, setback, crisis, or any other?
After noting your current struggles, your affirmations should be tailored to overcoming them.
Your Main and Current Goals
What are your goals in life?
Are they to become a billionaire, a successful business owner, or a renowned author?
Or perhaps, they're to build passive incomes, positively impact the world, and so many other things.
Then these are your main goals. To consider these in how you choose your affirmation? You need to break your main goals into milestones.
What process will lead you to achieve your main goals in life?
Does it include working harder or being smart to become that billionaire?
Or does it include creating different passive incomes instead?
Does the process include reading, writing, or publishing more quality books to become that renowned author?
Then you can put the processes into consideration while choosing your affirmations.
However, it would be best if you also considered your current struggles.
How do you overcome the fear you are struggling with so you can be focused on your goals?
Tailor your affirmations to provide these solutions to you.
The takeaway from this is that whatever you are affirming, you need to feel it in you. If you don't, then that means the affirmation is not aligning with you.
The 25 Best Affirmation Cards for Everyone
There are various affirmation cards, but not all are the best. So, after deep, thorough research, we've come up with the 25 mind-blowing affirmation cards that follow the rules of effective affirmation, as we've explained above.
We make sure these affirmation cards can work for everyone, depending on their interests, in the five categories below. They are;
Author: Deepak Chopra
As the title implies, these cards are created to awaken your spirit. You can use them as a mantra to boost your meditation practice. The deck contains 64 cards designed to foster a clear mind, heal your mind and body, and amicably practice mindfulness.
Each card has affirmation on the front and meditation on the back.
Author: Gabrielle Bernstein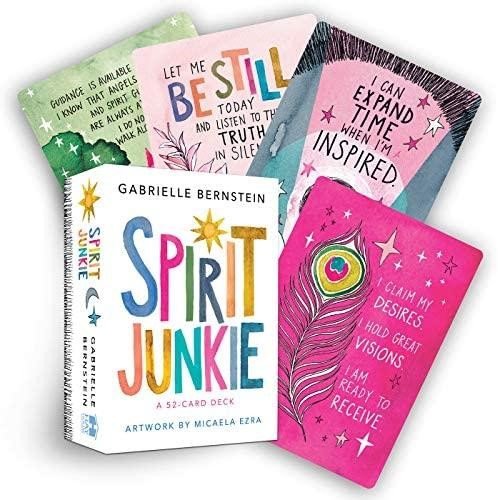 Written by Gabrielle Bernstein based on her top-selling book, Spirit Junkie. This deck contains 52 powerfully charged cards to provide inspiration and divine guidance and deepen one's spiritual connection.
Each message from the card uplifts you on your journey to living an inspired life and reminds you that you can find grace in every challenge.
Brand: HallowedFromHeaven
These are digital spiritual affirmation cards for Christians, and they contain 55 positive affirmation cards. Being on Etsy, they are printable, and you can print them on any kind of paper you want.
According to the review from a buyer, he feels more grounded and closer to heaven each time he pulls a card from the deck.
Author: Gabrielle Bernstein
Illustrator: Micaela Ezra
The Super Attractor Deck contains affirmations that help you feel connected to the spiritual energy guiding you. In addition, the beautiful colorful watercolor designs exemplify the Universe.
The uttermost goal of these cards is to help you attract what you desire while connecting with the Universe and living in alignment with Spirit.
Author: Gabrielle Bernstein
Illustrator: Micaela Ezra
These affirmation cards are written again by Gabrielle Bernstein, and Micaela Ezra illustrates the artwork. The deck contains 52 Inspiring messages to help you open up the power of the Universe.
They are made with positive spiritual affirmations to turn your fear into faith.
Self-Love Affirmation Cards
Author: Louise Hay
Modernized from the late Louise Hay's work, How to Love Yourself Cards has been proven a powerful, effective and beautiful deck attested by most buyers.
Having "I" begin most of the affirmations in the cards helps personalize what you affirm to yourself and enables it to stick to your subconscious mind efficiently.
Louise was an enthusiast of self-love with the common saying that "one thing that heals every problem is to know how to love oneself."
Author: Tarisha Clark
Having "I am" in all the affirmations in these cards instinctively makes self-love more feasible by affirming them. This is a very helpful deck if you've been battling with any self-deprecating challenges.
It helps boost your self-esteem and confidence and empowers you with uplifting messages.
Author: Louise Hay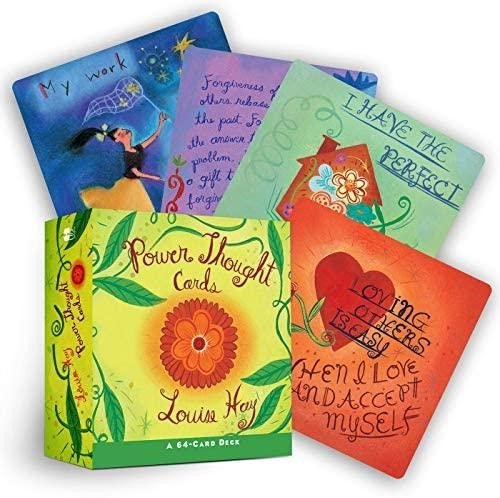 This is another card deck by Louise Hay, a specialist in affirmations, mostly self-empowerment affirmations. The Power Thought cards help you find your inner strength as you work on issues from self-esteem, to love to romance and prosperity.
Advised by the author, post the cards in your home, car, and workplace.
Then, read a different one each morning.
Ultimately, your day will begin to unfold effortlessly and powerfully as it takes you through personal growth.
Although these cards range from self-love to other personal issues, it's still a great deck for fostering self-love without leaving other related personal issues out.
With each card containing powerful affirmations, visualizations are made on the other side of the cards for enlightenment and inspiration purposes.
Brand: Because I'm Happy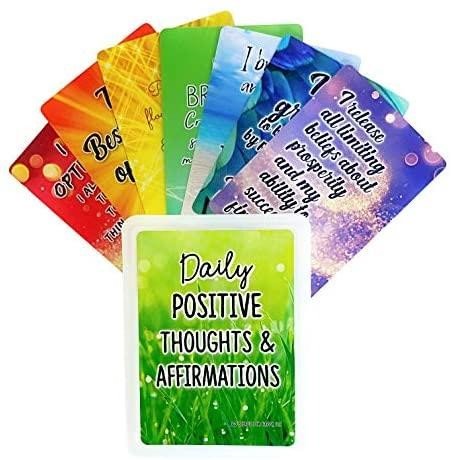 These cards will remind you of many reasons to be happy with their positive affirmations.
So if you are always fond of negative thinking, neglecting all the positive aspects of your life, this affirmation card is right for you.
With over 150 empowering inspirational questions at the back of the cards altogether, you can spend a few minutes of your day contemplating them each to ensure you make good use of your affirmations.
It can also be used as a family set.
Brand: Esteem Affirmations
With the unique pieces of art illustrated on these cards, they exhibit a beautiful, peaceful design perfect for self-love.
The affirmations in these cards are not also left out of this.
They help you build your self-esteem, which eventually leads to unconditional self-love.
Positive Affirmation Cards for Adults
Brand: Because I'm Happy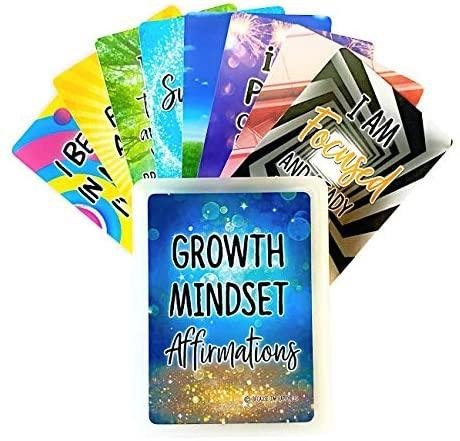 Do you find the need to develop a growth mindset?
The ability to be more resilient and eager to take on new challenges without being afraid to fail?
These affirmation cards are right for you.
Their affirmations help you build self-esteem, overcome the fear of perfectionism and failure, and believe success is within your power.
Brand: Sunny Present Store
Being an adult demands a lot from us.
From working to be able to provide for our wants, having to look out for family, friends, and kids, trying to work our ladder up in our business, career, or job, or facing one or two challenges in life, stress and anxiety tend to set in.
Less Anxiety affirmation cards were able to provide affirmations based on the principle of mindfulness.
With this, you get the peace and clarity that ease your stress and anxiety.
Not only do use these cards cause you to be relieved of stress and anxiety, but they also boost your self-confidence.
Brand: I Know Collection
These "I Know" affirmation cards help you focus on the positivity in and around you.
It's meant to help you unleash your potential and believe in yourself with the "I know" beginning the affirmations.
The 40 affirmation cards also contain self-empowering quotes.
Brand: LEGENDARY LIFE
With 120 positive affirmations, these Legendary Affirmation cards categorically cover six different aspects of every adult's life that needs affirmations. These are;
General
Spiritual
Love / Relationships
Self
Physical Health / Body Image
Money / Career
Aside from the 120 affirmation cards, it also comes with ten blank cards for your personalized affirmations.
These affirmation cards are great for every adult who needs a more versatile deck to help them positively level up in all areas of life listed above.
Brand: Intelligent Change
This affirmation deck includes a stylish beechwood stand that you can use to place the cards conveniently on your table.
The deck contains 52 positive affirmation cards that you can use to boost your self-esteem or use as mantras during meditation.
The affirmations are also meant for gratitude productivity purposes.
Affirmation Cards for Women
Brand: ECOM LUXE CO
With the stunning black and pink color designs for these cards, the affirmation cards are specially made for every ambitious woman looking to level up in all areas of her life.
The affirmations help foster self-love, care, and thoughts of positivity in women.
They also inspire women toward their ambition.
With stress, anxiety, and self-doubt unavoidable on this ambitious journey, the cards were designed to help them feel empowered and confident.
Ultimately, they were written to inspire women to live life unapologetically, to their fullest potential, and embrace their female power.
Brand: Dessie Store
These Dessie Affirmation Cards are beautiful floral cards with great positive affirmations.
Also, On the other side of each affirmation in the cards are intriguing questions related to each affirmation. These questions ultimately help you accept the affirmations as true.
With each of the questions answered by you after each affirmation, they prevent you from making empty affirmations and guide you through achieving what you'd affirmed.
Brand: Piper Family Company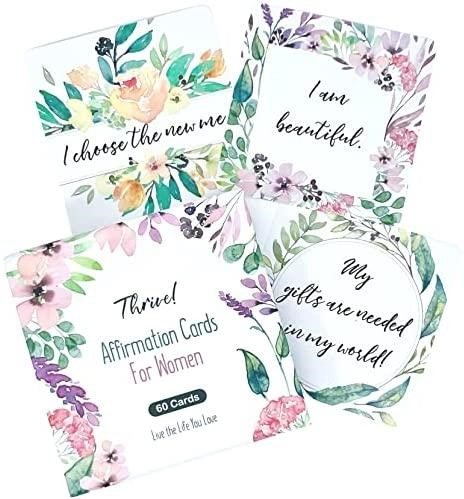 The ultimate purpose of these Thrive Affirmation Cards, according to the author, is to inspire women to live the life they want.
Regardless of every woman's age, style, or life preferences, these cards serve as an effective way to make them feel empowered in their values.
According to the author, she made these affirmation cards from her affirmations, which are effective positive affirmations.
Moreover, if you are picky about affirmation cards' quality, you might want to consider these cards as they are thick and durable cardstock paper.
Brand: Ariond
This Ariond Happier Me Affirmation Deck contains 45 powerful affirmation cards for women.
They are made with affirmations on the recto of the cards and empowering elaboration on the verso.
The beautifully designed cards are lightweight, such that you can carry them around, and they also go well in any home and or office style.
You can use the affirmations and elaborations that come with them as mantras for your meditation. You can also gift them to friends or families.
Brand: EPIC SELF
These affirmation cards come in simple gray colors for those not a fan of multicolored cards.
However, the cards are beautiful, with powerful positive affirmations for women.
You can use these affirmations to reprogram your thinking and start your day with positive and right intentions. And the deck also comes with a wooden block desk stand for placing the cards upright.
Best Selling Affirmation Cards
Sometimes, it's easier to go with the flow when picking the affirmation cards to purchase.
However, you want to know the best-selling ones to be able to explore the past reviews on them and be certain of what you're getting.
After our research, we are able to fetch 5 of the best-selling affirmation cards on Amazon.
Even though some are already included amongst the affirmation cards we've had listed above, we will not be repeating them here.
However, to understand why we're listing these cards as best selling, they've had almost or over a thousand sales with nothing less than a 4.7-star review.
Brand: Knock Knock
This affirmation card boosts you to work, which is awesome. Work is mostly tiring, and here are affirmation cards inspiring you to keep it on with a sense of humor.
This deck has amassed over 3000+ reviews on Amazon and with no less than 4.8 global ratings.
Brand: Mindful Messages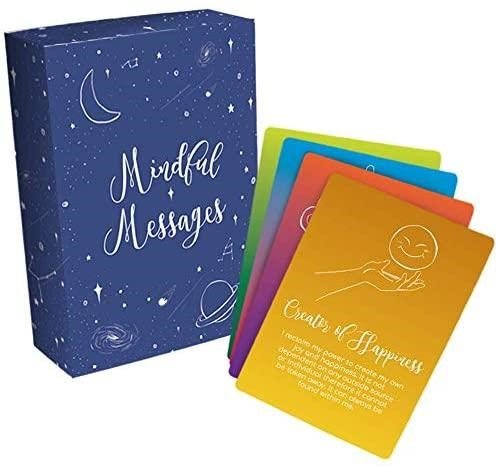 These cards are filled with positive affirmations that give you positive vibes anywhere and anytime.
These cards have amassed over 1000+ reviews on Amazon. It's gotten 4.7-star ratings in total, and it's worth buying.
Author: Casey Wiegand
These floral affirmation cards are attractively illustrated with unique fonts for women. As best-selling cards, they are over 1000+ and 4.7 stars globally rated.
Brand: Lamare
These cards are aesthetic and can also be used as an oracle and tarot deck.
They contain 40 unique cards.
With powerful positive affirmations, these cards are already at the edge of hitting 1000 reviews with 55 left. They are also 4.8 stars globally rated.
Brand: Dessie Store
These beautiful Dessie affirmation cards have over 800+ reviews.
Not only are the cards beautiful, but they contain positive affirmations with empowering questions at the verso of each card.
With 4.8 star global ratings, 98% of the buyers have testified it's worth their purchase.
What Size Should Affirmation Cards Be?
There is no one rule as to what size an affirmation card should be. Therefore, here are the sizes you can consider appropriate for your affirmation cards;
3.5″ × 2.5″
3.5″ × 5.1″
2.48″ × 3.46″
2″ × 3.5″
2.5″ × 3.5″
4″ × 4″
Where Do You Put an Affirmation Card?
There are no rules to where you can put your affirmation card. However, for proven results, these are the certain places your affirmation cards can best work with you when placed.
These places include;
Your mirror.
Inside your wallet or bag.
Your bedroom's wall.
Your car.
Your workplace.
Anywhere in your home where you can easily and frequently see and read them.