What is an Assumption?
When we assume any case, any event or an object without solid ground or proof is called Assumption.
It has no actual existence in reality.
It is expected to be true and real while it does not happen. It is a sort of belief without any experimental proof. This word is derived from assumere, a Latin verb that means "to take to oneself."
For example
One thinks that he looks handsome, but it is not a fact; it is an Assumption.
What is the Law of Assumption?
Before going into the details, it is essential to know the term itself. This is a kind of principle that is called the law of Assumption.
By assuming something, one can enjoy his wish and desire. No doubt it is imaginary but, it provides the feeling of satisfaction.
Practicing this principle of assuming something, and creating anything of own desire is simply the law of Assumption.
It all depends on the imagination and consciousness of a person who wants to live life by creating anything of his desire.
Beliefs have significant importance in one's life. There is a strong bond between assumptions and beliefs. Imagination and assumptions have the potential to change one's beliefs.
The change in assumptions and beliefs has a greater impact on consciousness, leading to any experience.
If one assumes something, he is aiming to achieve his desire or goal. In this practice, one assumes the existence of his desired object etc. This gives him positive energy to utilize in order to achieve his goal or aim.
This change in consciousness matters a lot in this whole process of Assumption.
Neville Goddard's law of assumption
Law of Assumption Discovery by Neville Goddard:
Neville Goddard discovered the Law of Assumption.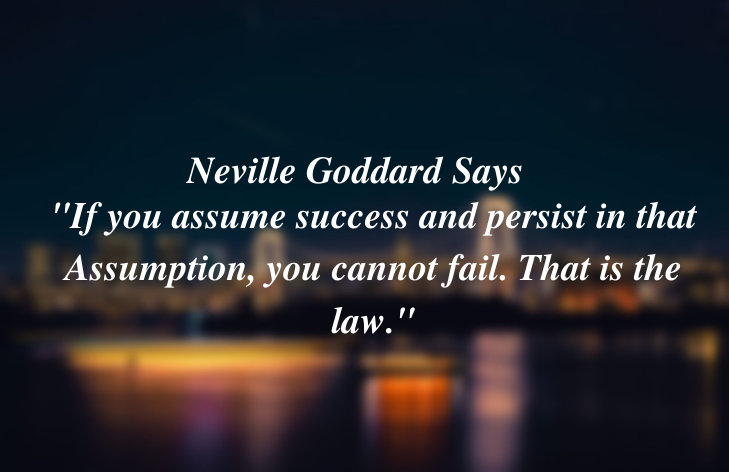 He gave a clear idea about this process. Moreover, he proved his opinion with examples. Hence, now it exists as the Law of Assumption.
Finding feeling of desire:
To practice the law of Assumption, pretend that you have already achieved what you want.
Remember that your strong imagination helps you believe something theoretical.
This imagination, in the final, leads you to reality. In simple words, imagination is the key to reality.
Make sure what you want has become your desire.
When you start to imagine, it will help you prepare for an experience. This imagination leads to experience. Pretending is the first step of experiencing.
Feeling your desire is not simply thinking about it. Simply thinking does not work. One must have a strong belief too. One must believe that he has already achieved what he wants.
This faith will energize that person to find a way to achieve his goal. Belief leads to the attempts of accessing a way to success. When a person starts feeling his desire, he will attain it.
The most important condition in this regard is strong imagination and belief.
Importance of Persistence:
Simply thinking about desire and having a belief is not enough. Believing for a few days or for some time does not work.
One should stick to his purposes to achieve his goal or aim.
Assuming is the initial step of physical manifestation. To attain success, keep feeling the existence of your desire. It is significant for success that one must maintain his feeling of attaining that desire.
Neville Goddard says;
"Your assumption to be effective, can not be a single isolated act, it must be a maintained attitude of the wish fulfilled."
Hence, persist as much as you can. Strongly adhere to your feeling of achievement. Convince yourself to persist enough to get success. Revise your feeling as much as you can.
How to Practice/Manifest with the Law of Assumption:
In the whole process of practicing the law of Assumption, ones' internal state is of great significance.
One must stay away from negative thoughts.
One must avoid listening to negative points of view about his feelings, desires, or aims.
One must conserve and utilize his energy in thinking and feeling positive.
One must have positive ideas, feelings, and thoughts about himself and what he wants to attain in his life. One must strongly assume that he has achieved his desired thing and is working in a good way. There is no problem with its working. Everything is going positively.
One must have positive energy vibrations in this process. There should not be any misunderstanding, misguidance, etc.
One must have a proper positive mindset regarding his desire. One must be optimistic about the results of the process.
One can create and build the world of his own choice only by practising the law of Assumption. This practice makes you set your plans and control all aspects of your life.
One can assume anything, idea, event, or anything else to exist as real. It may be from passing an exam to having a good position in a company as a boss. It can be anything. By assuming one can discover and build a world of his desire.
Law of Assumption Success Stories:
There are a lot of success stories related to the application of the Law of Assumption.
I have also practiced this method and achieved my goals. One of these success stories is my own story.
Law of Assumption Success Story Number 1:
I was a poor student. I was weak at learning and memorizing things. My class fellows used to make fun of me. It hurt me a lot.
One day I read about the Law of Assumption. I just imagined to top in annual examinations. It was quite silly to even think about it at that time. But I was determined to achieve this goal. I made my mind and utilized my positive energy to think and feel about my desire.
I visualized myself receiving the first prize. I visualized myself to be appreciated for securing good marks and making a distinction.
I lived in a world of my own desire. I imagined about this all. My strong imagination made me believe that I have already topped in my class. My persistence made me access a way to achieve my goal.
That was a great experience to sketch my desire. I created the world of my own choice.
I strictly followed the teachings of Neville Goddard related to the practice of the Law of Assumption.
My positivity boosted up the power of my Assumption and belief. This made me work hard. I started talking, listening and narrating confidently.
I used to walk in school as if I was a topper. I used to express my ideas about the lesson. Teachers started to notice me. They gave me special attention. They started helping me with my studies.
The thing was that, because I assumed that I had great knowledge and confidence, people followed through with that Assumption.
This Assumption gave me the strength and energy to do something extraordinary. The result was my success as a topper in the class.
Law of Assumption Success Story 2:
One can easily attract the love of anyone by practicing the Law of Assumption.
One can feel and be positive with massive energy, thinking that they are already in a relationship.
One can assume that he is in a relationship with someone who loves and cares about them.
One can assume that an adorable and caring person is there taking care of them. This can be achieved by persistence until it happens in real.
My best friend succeeded in attracting the love of his beloved one by practising the Law of Assumption.
She belonged to a mediocre family. She was not rich. She had nothing to express and present herself as rich and modern. She wanted to be in a relationship with an exceptionally handsome and rich guy. She created the world that was according to her wish and desire. She used to walk and talk confidently. She assumed that she was already in a relationship with the most handsome and rich guy at the university. She started to wear neat and clean clothes. She used to pretend as if she belonged to a well to do family. She started pretending and boosting off.
Her imagination made her access a way to success. Everyone started to notice her. She got the attention of many people. She pretended that she already had a boyfriend. She started to take care of her dressing, style, physical appearance etc. This attracted a lot of people. Her body language and confidence even drew the attention of the most handsome and rich guy at the university and proposed to her.
Her strong imagination and belief in the practice of the Law of Assumption changed her life. This practice gave her a chance to create the world of her own choice, and she got success in her aim.
Law of Assumption Success Story 3:
My neighbour was an educated person. He tried to get a good job in a well-known company but he could not. He tried again and again but all vein. His failure hurt him.
As he was a jobless fellow, his friends and family made fun of him. His frustration and depression were at their peak when he came to know about the law of Assumption. This was just like a ray of light in the darkness for him.
He started feeling that he had got a high position in a well-known company. His imagination gave him positive energy. He started believing that he was earning well. He changed his dressing style.
He regained his confidence. He started treating his friends as he was superior to them. He used to talk confidently. He assumed himself working in a well-furnished office, operating a laptop and ordering the workers.
His Assumption made him search for a good job again, and he dropped his CV in a company. He had already gotten a high rank in that company.
In the end, his imagination, Assumption and strong belief resulted in the realization of his dream. Now he is working in a high position in a well-known company.
Law of Assumption Success Story 4:
Anyone can assume anything to exist as real. One of my students wanted to set up a beauty parlour. She had good knowledge about cosmetics and beauty products, but practically she had not experienced this all.
After knowing about her wish, I suggested her practice the Law of Assumption. In her own words;
"I had a desire to set up a beauty parlor, but I did not know how to act. I was quite worried and disappointed when my teacher guided me. She told me about something amazing and interesting. She told me about the Law of Assumption.
After listening to this, I laughed hard and thought it was a silly idea.
But, she smiled and asked me to try it once. I made my mind to practice the Law of Assumption.
I started to feel that I already had a parlor where I performed all the related activities. I assumed my desire. My imagination created a world of my own choice where I had my own beauty parlor, running successfully.
This Assumption made me believe strongly. I changed my looks. I started wearing stylish dresses. I changed my hairstyle. I started applying make-up daily. I talked confidently about make-up products and cosmetic items among my friends and fellows. My positive energy made me feel confident. I started sharing beauty hacks with my friends as an experienced beautician. My Assumption made them notice me. They started marking and following my words. Hence, I created a world of my own choice. I got attention, popularity and finally, I achieved my goal by persistence. "
Does the Law of Assumption Work?
One can think that it does not work. But it works. However, there is a condition of strong belief and persistence.
Law of Assumption Affirmations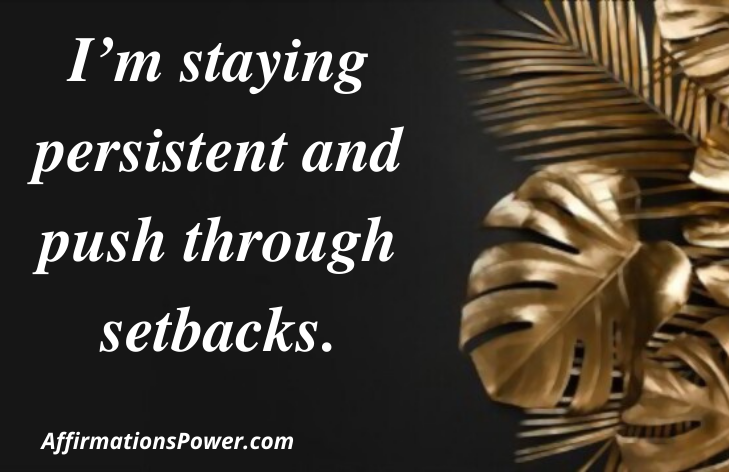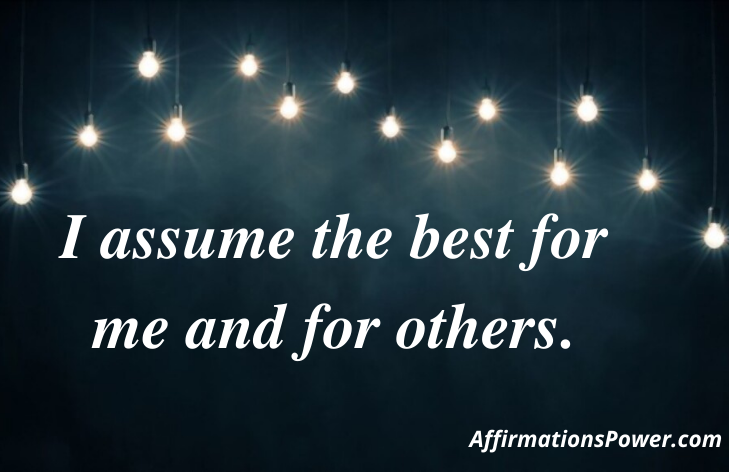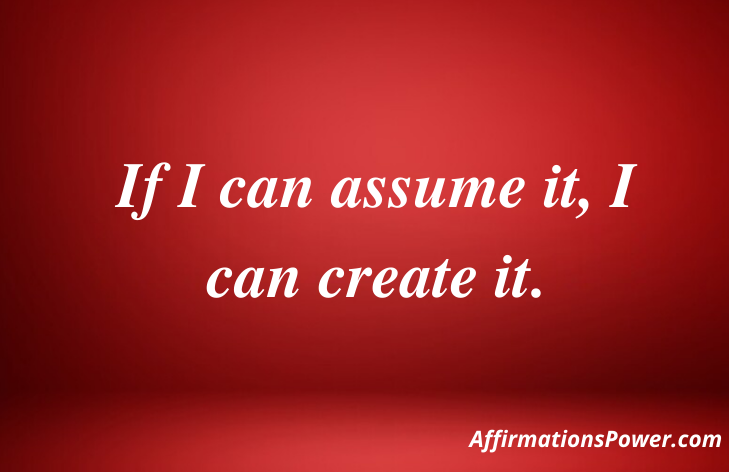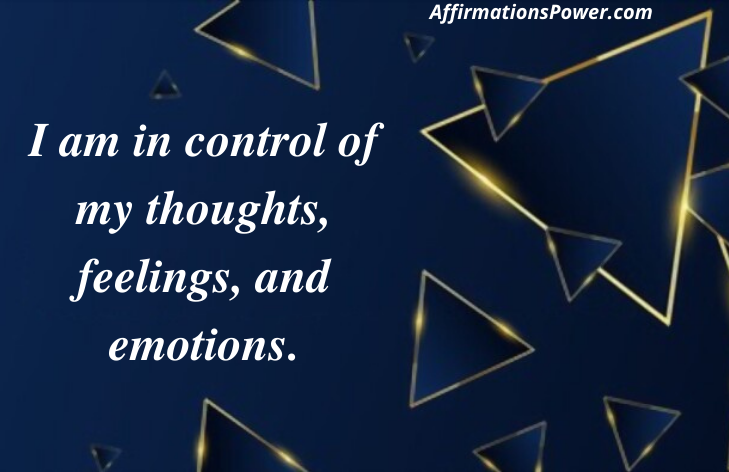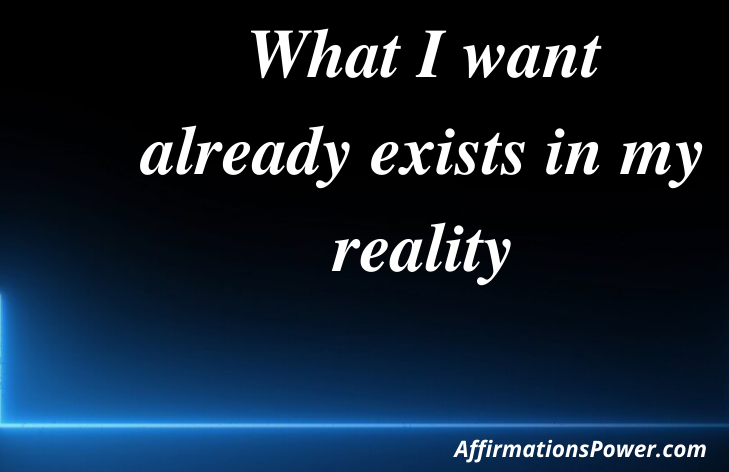 Tutorials you might be interested in.